Seattle Gay Scene – Brad Gilligan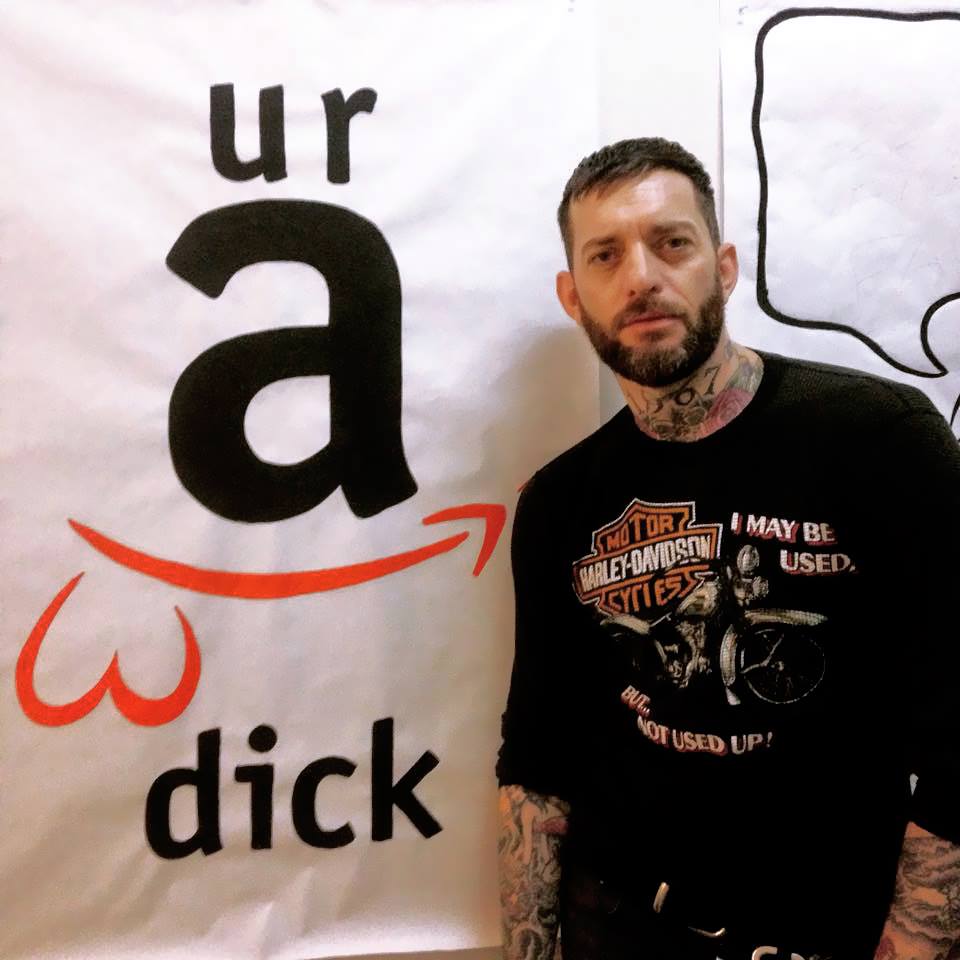 John Criscitello is many things and one of them is being so acutely aware of creating art that in turn creates conversation. He is, in my opinion, of the generation of LGBTQIA that actually gets shit done instead bitching across social media from the comfort of their armchair.
On February 12th, John will have an art show at the Vermillion Art & Gallery Bar showcasing his pieces that make light of woo girls, dudebros, and hoity-toity Bellevue Wives. I got to catch up with him for a brief moment to have him explain the method behind his madness.
************************************************************
Well, let's just jump right into things. You've made a slew of pieces critiquing the "woo girls" and "dudebros" that have been schlepping around the gayborhood of Capitol Hill, mocking and harassing members of the LGBTQIA community. Can you explain who and what they are for the uninformed?
Fuck, if I know who they are! Kids, from somewhere else, that decided that our neighborhood is a great place to vomit three nights a week. I'm old, so they all look like 6th graders to me. Straight guys in typicle dumb guy clothes and girls in tiny, tiny skirts…in Seattle…in the winter. Where ever they come from, I always say a little prayer to Baby Jesus that they all die in fiery auto-accidents on the way back to Kirkland. And, I mean that in the best possible way.
Basically, you're holding up a mirror to their behavior. What is the most bizarre interaction you've ever experienced with a woo girl?
I had an old woo girl (someone coined the moniker Woouger) try to dump a shot of whiskey in my mouth. I am 10 years sober. I was at Diesel, one of the last true men's bars, and after loudly screaming "Hey, do you like to PARTY cowboy??!!!!" at me, she put her hand in my vest. In all fairness, I was wearing a cowboy hat. So, I was asking for it.
Tell me about #BellevueWivesMatter.
I made the painting of the two women first and usually, before I'm done, I know what I want it to say and I always go with my gut, even if it seems way out of line. But, with this one, I drew a blank and put it up on Facebook as a "Caption This Image" and it got almost 200 responses. Some really funny, some sort of cliché, and many rather offensive ones. You could even say misogynistic, being that the words "cunt" and "whore" were being thrown about. So, I ended it, but not before the very handsome and witty Sean Paul Stroupe took the prize with #BellevueWivesMatter. Perfect, timely, and sardonic. Well, then the shit hit the fan.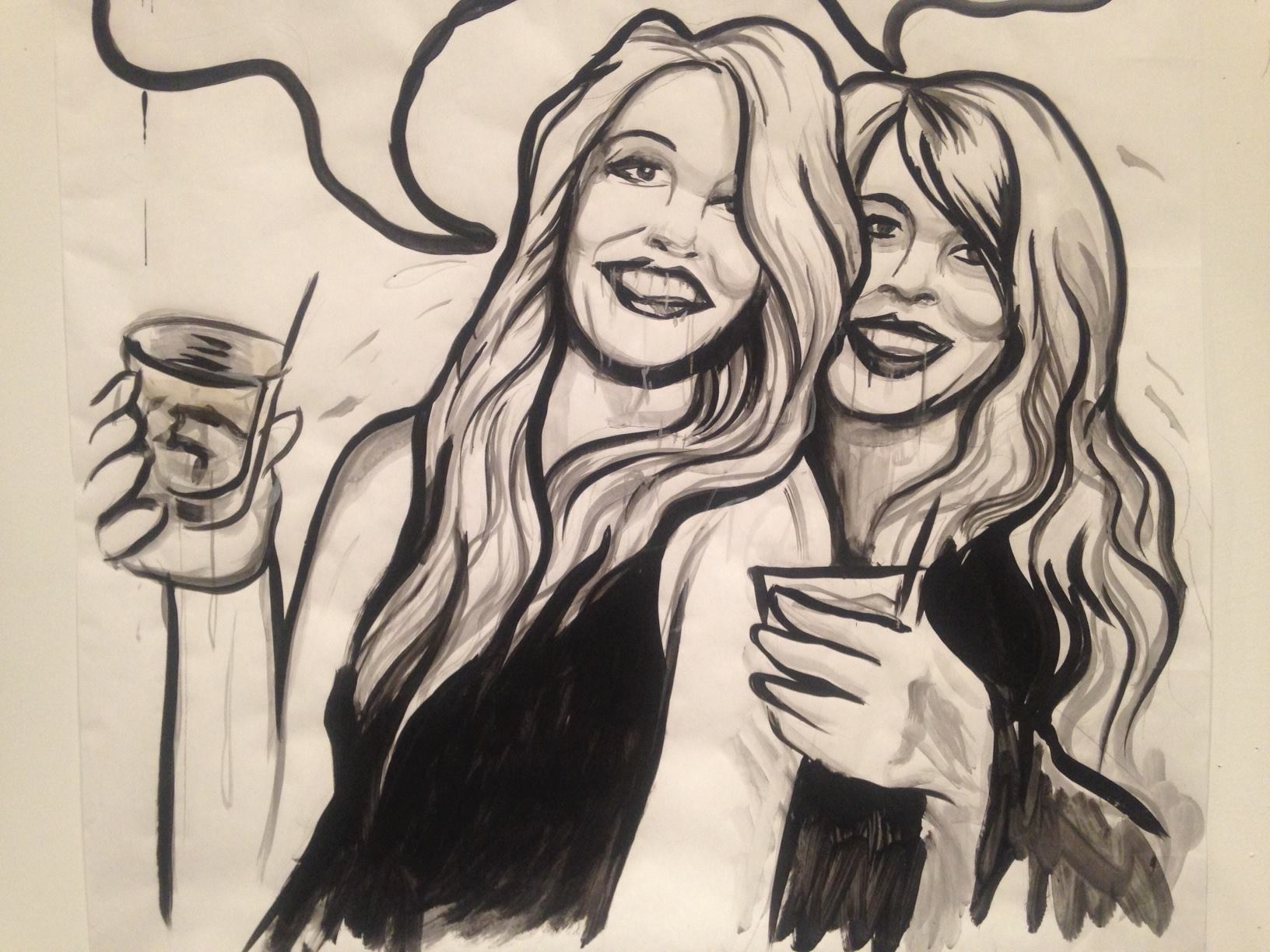 There was a large contingent of professionally offended people in Seattle began to rant after the poster appeared in public. I am not out to distract or minimize from the struggle of people of color. Look, I hate cops, too. I'm on your team. Sometimes being sardonic can come off as crass and I work without filters. Image and text come together and somethimes there is no separating them. Co-opting slogans of people of color is risky business, but it can work in this case as I am working towards poking holes in the white power structure. From the inside.
I know that a lot of your pieces have been posted on your Facebook page, but will any of them be for sale at your art show? Which one did you have the best time creating?
All work is for sale, always. This studio can only run if there are sales. I try to make work that is accessible to everyone, so there will be a wide range of work available at the opening starting at $100 for prints. I had fun painting the Bellevue Wives. I'll be sad when they are gone. They are my ladies, I am 'their gays'.
Typically, you go around the city and hang some pieces on various objects, which I find hilariously awesome. You're also pretty good at knowing when the city will come around and remove them. How long do they usually stay up for public viewing?
I scope out suitable areas, hopefully where the work will stay for a while. I had a run of pieces being destroyed in one night. The Department of Transportation has a crew that scrapes the boxes, so I guess I'm giving them job security.
Naysayers have said that making art about woo girls and dudebros is misogynistic and just downright mean of our community. What do you say to that?
Well, you know this is Seattle. Not exactly Friendly Town, USA. To the naysayers, I say spend a Friday and Saturday night going to all the bars between Broadway and 12th with these kids and then call me on Sunday morning and tell me how you feel. If you haven't already jumped from the Space Needle, that is. Kisses xoxox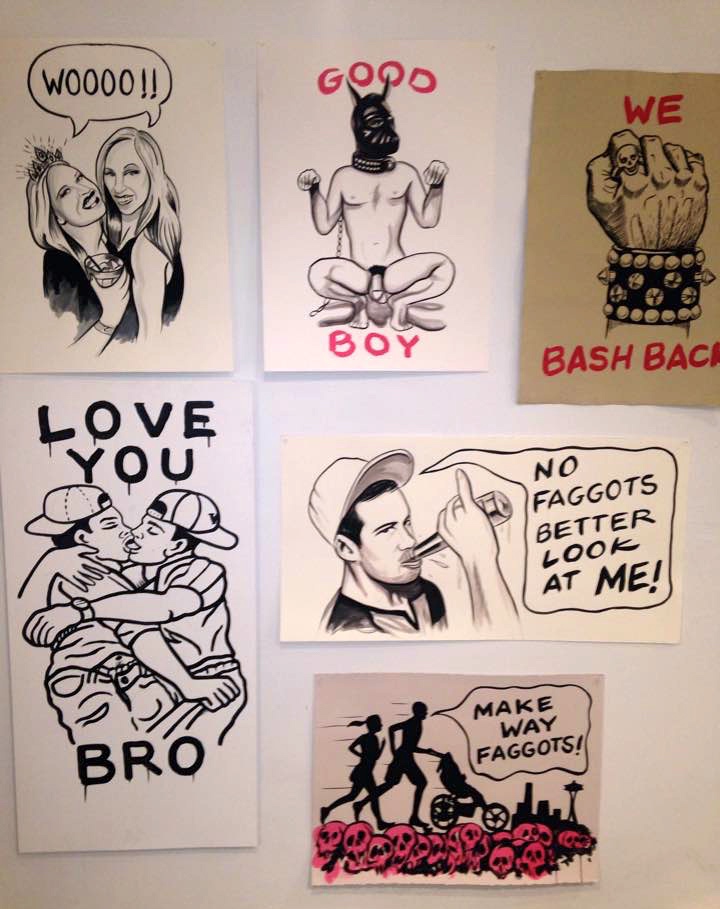 John Criscitello's work will be shown for two weeks at The Vermillion Art & Gallery Bar, located at 1508 11th Ave, in Seattle, WA. Doors open at 4pm, but his show specifically will start at 7pm. For further information, please contact John.
Category: Art